---
Alderdale Black Magic
We were thrilled to purchase Magic from the Koehlers in December 2003. We had a great first year winning at the Canadian Carriage Classic, Walnut Hill and seconds at the Royal Winter Fair. We had huge steps to follow as Magic and Jeff Kohler had won just about every driving championship for ponies in North America. Magic had won the coveted Gold Whip twice at the Classic against the horses and coaches!!
In 2005 Magic had another 'magical' season. She was Small Pony Champion at Walnut Hill Pleasure Driving Show in New York. At the Walnut Hill show she also won the Open Gig class against the large ponies and horses.
Later in August she also was Small Pony Welsh Champion at the Gaits At Caledon show in Palgrave, Ontario.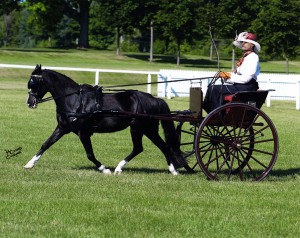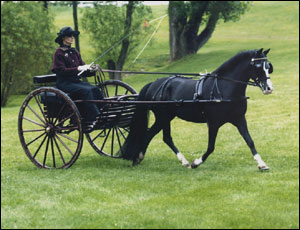 ---
Natalma
In April 2006 we purchased Alma as a driving pony from Darlene Morton. Alma exceeded all our expectations for a 4 year old green pony mare.
Alma placed at East Aurora and Walnut Hill pleasure driving shows, was a member of the Ontario Carriage Racing Derby group and won the novice level dressage and cones at the Ontario Combined Driving Championships.
In 2007 Natalma was also part of the Carriage racing derbies and attended several driving competitions in Ontario where she placed first. We plan to breed Natalma in 2008 to Alderdale Nighthawk and hope to get a lovely black foal that may be part of a future four in hand of black cross bred welsh ponies.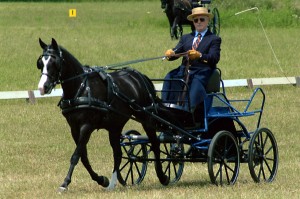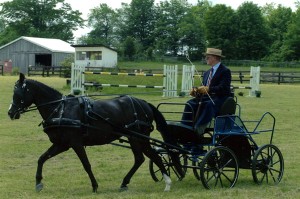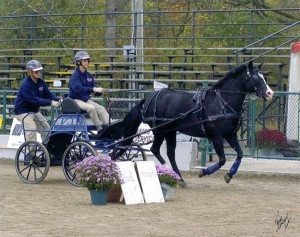 ---
Yswain Joel
In 2008 we acquired Yswain Joel from Paul Maye in Lexington Virginia. In 2006 Joel was the American National Reserve Champion cob stallion. In 2007 Paul showed Joel at several welsh line shows, driving events and the National Drive in Lexington Kentucky.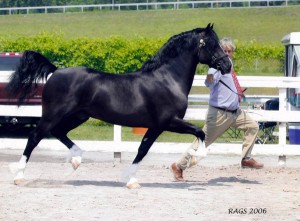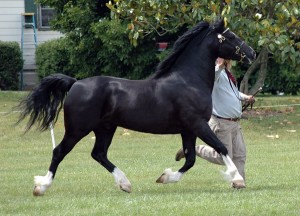 ---
Bourbon
Bourbon was a CSHS part bred out of our mare Encore by the 14.2 hand Morgan stallion Delview Ebony Fox. Bourbon matured to about 15.2 and was a perfect size for women rider. He always placed extremely well on the line against the sport horses and was third at the Royal Winter Fair under saddle as a three year old. Beaujolais is a half brother to Bourbon (see horses for sale)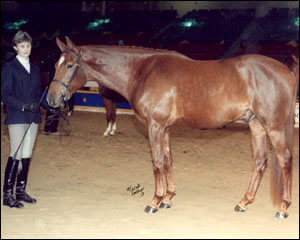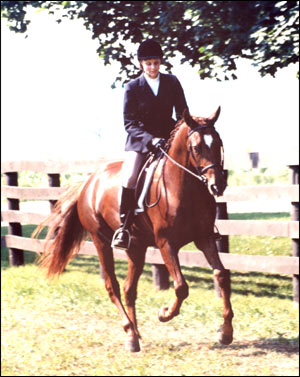 ---
Bazarov
First home bred foal Trakehner/Thorougbhbred.
Blackie was shown to advanced level dressage by Jane Southgate and Christian Garweg. After he was retired he went on to win twice the Single horse championship at the Canadian Carriage Classic. In fact, the Carriage Classic implemented the Bazarov Perpetual trophy that is presented to the annual winner of the driven dressage class.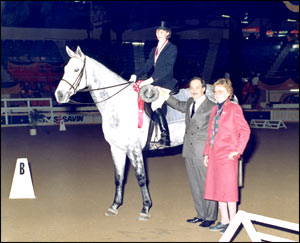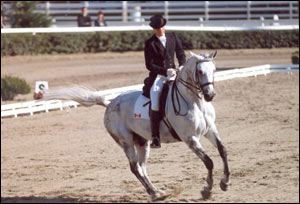 ---
Hawksview Dandy Dale
We acquired Dale in July 2005 from draft Welsh pony breeder/owner, Diane Wright. Dale is a registered Section A Welsh gelding who had a terrific show season in 2005 with Bob Hanenberg. Within a month of purchasing Dale, he showed at Walnut Hill and earned some great ribbons. Dale also was Reserve Section A Welsh Champion at the Gaits at Caledon show and won pleasure driving classes at Sutton Fair.
We sold Dale to Gale Salter who loves him!
---
Millcroft
Millcroft was another horse bred by Poplar Lane Farm
and was a half brother to Bazarov. " Marty" showed in pleasure driving and advanced level dressage. He also was Canadian Reserve Champion Basic Dressage in 1991.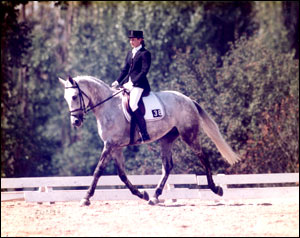 ---
Mapleshade Baccarat
Rosco at the Palgrave pleasure driving show and the combined event at Tralee in 2004. Rosco had a great
year in 2005 placing at all the major driving shows. He was Pony Champion at East Aurora, New York and Gaits at Caledon and won the Carriage Racing Derby at Sutton Fair. We wish Gale Salter all the best with the purchase of this wonderful pony.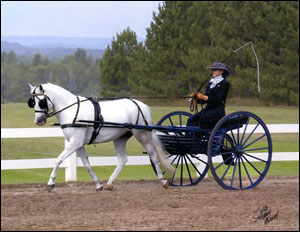 ---
Waterloo Dark
Malt was our last standardbred that we raised. After he finished racing we we rode and drove him at the farm. In 2010 Bob and Malt were the Horse Reserve Champion for the Tri County Carriage series of shows.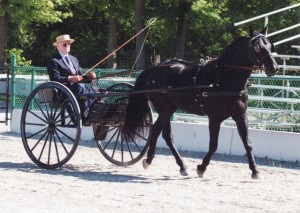 ---
Stormy Weather
Stormy was my first competitive hunter pony who I showed until I was 18. I also got my hunt colours from Caledon – Eglinton Hunt with this pony and I was the first junior in the history of the hunt club to recive my colours.