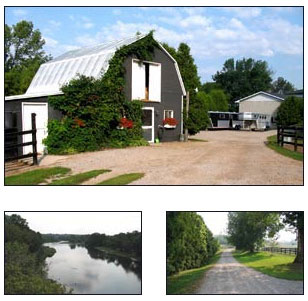 The farm, located in picturesque Glen Morris along the Grand River, is owned by Jane Southgate and Robert Hanenberg. The breeding program for quality Sports Horses has been in existence for 25 years.
The program was started in the 1970's to breed competitive dressage horses. The first foal was Bazaov who competed in dressage and progressed through all levels to Advanced with great success. His half brother, Millcroft, also competed successfully in dressage from the basic to advanced levels.
Since then we have added welsh and cross bred ponies for driving and riding. In 2003 we decided to import a German Sport pony stallion – Bennos Hit.
Our horses and ponies have won in dressage at all levels from basic to advanced as well as over fences and in line classes. The driving ponies and horses have won at major shows in Ontario, Quebec and USA.